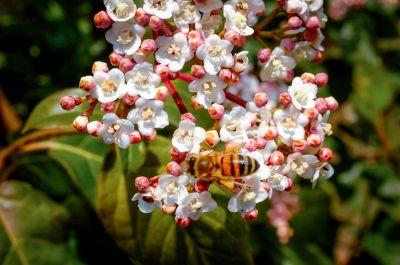 Whether you're looking for evergreen structure, winter colour or beautiful flowers, there's a viburnum to suit your needs. This large group of plants includes evergreen and deciduous shrubs, some with scented winter flowers and others blooming in summer. They're easy to grow and care for, and great for wildlife.
One of our very favourite viburnums is
Viburnum x bodnantense (Arrowwood)
Viburnum x bodnantense is a deciduous, winter-flowering shrub. Its large, leathery leaves turn vibrant red and orange in autumn, and it is renowned for the clusters of sweetly-scented pink flowers that appear on bare branches in winter. Put a few flowering stems in a vase to fill a room with fragrance.
Viburnum x bodnantense grows in full sun or partial shade, in moist, but well-drained soil. Prune in spring after flowering has finished to keep it to size.
Probably the most popular Viburnum x bodnantense variety is Viburnum x bodnantense 'Dawn', which holds the Royal Horticultural Society Award of Garden Merit - clusters of dark pink flowers, 3m x 2m (10ft x 6.5ft).
Now's a great time to plant shrubs and trees, so visit our centre to see our great range of viburnums and other shrubs. Get your garden ready for springtime and prepare your garden for a sunny summer.